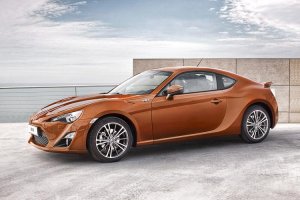 Finally the Toyota GT 86 the production car.
After Toyota apologized for keeping the motoring public waiting for the launch, has finally unveiled the new Toyota GT-86 which just debut at this month's Tokyo Motor Show. Although the Camry makes the company lot of sales and the Prius aims to represent the firm's future, the production car of the GT-86 model might just be the most crucial car Toyota will launch in decades. Firstly designed as FT 86, In Europe, it's going to be called GT 86 and it got inspired by many old and recent brand's model as the Toyota 2000GT, Corolla Levin AE86 from which this new released model takes its name.
Toyota GT 86 Specifications.
Born out of an important joint development project between Toyota and Subaru, the Toyota GT 86 measures 4,240mm long, 1,285mm high and 2,570mm wide. On this sports coupe, the front/rear mass distribution is 53/47 and both the power unit and the driving position have been lowered to obtain a lowered center of gravity that is now reported at 46 centimeters above the ground. The Toyota GT 86 was developed to be a reasonably priced sports coupe with considerable drifting and racing capabilities. Power for the Toyota GT 86 arrive to the wheels thanks to a 2.0 liter 4-clyinder direct injection "Toyota D-4S" engine that delivers 200 hp at 7,000 rpm with a maximum torque of 205 Nm at 6,600 rpm. Two transmissions available, a 6-speed manual transmission or 6-speed automatic with steering wheel paddles, accompanied by limited-slip differential. To complete and manage the car balance in all conditions, Nippon engineers and designers added 17 inches wheels with ventilated disks and front McPherson dampers.
The Toyota GT 86 will be delivered in the U.S. market as Scion – alongside sister Subaru BRZ, while In Europe it will arrive at dealers in next summer 2012. Prices have not been yet disclosed.
[Not a valid template]
[youtube]
Similar News: