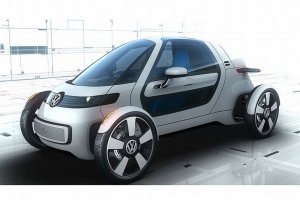 After Audi Urban Concept here is the Volkswagen Nils.
Volkswagen Nils is the vision of a future concept car powered by an electric motor that the Wolfsburg manufacturer has just introduced at the 2011 Frankfurt motor Show. The project of the Volkswagen Nils, supported by the German Federal Ministry of Transport, is an hypothetical urban vehicle for commuters in the year 2030. With Audi's electric vehicle concept, Volkswagen was forced to build-up their own model and the eco-friendly Nils, with its single-seat layout, officially presented at the same motor show this month. The design of Nils has been developed by the Volkswagen Design Center in Potsdam, Germany.
Volkswagen Nils with some of the Formula 1.
The Volkswagen Nils concept is 3.04 meters long, 1.2 meters tall and just 0.39 meters wide, It is powered by an electric motor of 25 kW and 130 Nm of peak torque powered by a lithium ion battery from 5.3 kW that provides a range oh 65 km. The engine weighs 19 kg and the car 460 kg, so that is able to speed up to 130 km/h in less than 11 seconds from standstill. Volkswagen Nils concept has the same basic layout as in the Formula 1 with a single centrally-mounted seat and is made from an aluminum space-frame with winged doors.The wheels have a diameter of 17 inches and tires 115/80 to the front and 125/80 for the back.
Level of safety on the Volkswagen Nils.
This concept car relies on Volkswagen's Most advanced security systems, as the City anti-collision device, which brakes the car automatically when detects the risk of an accident or the safety distance is lowering the limit. The charging time of the Volkswagen Nils is just two hours from a 230 V outlet.
[Not a valid template]
[youtube]
Similar News: