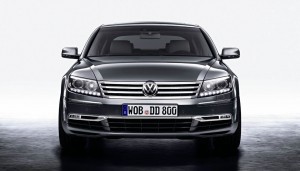 The 2011 Volkswagen Phaeton, opulent and full of chrome details, comes to European dealers with engines V6, V8 and W12. The luxury Volkswagen sedan reveal its revamped version with improved details and contents. The  German flagship has undergone to aesthetic alterations, that do not distort the original design, with the primary target of selling in the Chinese market (Volkswagen sells in China over 2,000 phaeton per year).
The 2011 Phaeton has the front following horizontal lines and is more impressive thanks to the role of the redesigned bi-xenon headlights and indicator lights with LED technology as standard. Horizontal lines stand out too in the dashboard, where stands the wide panel for the air conditioning distribution (four-zone Climatronic) and the 8″ touch screen matched the info-telematic system board and radio-navigation with 30GB  iPhone compatible. The system has the ability to make a connection to Internet via Bluetooth device (fitted as standard) and can see the Google maps, data loads online by phone and through a dedicated proxy server. On the new Phaeton will also be available some very sophisticated driver assistance systems as the road signs recognition with on-screen display, then there are valuable devices for security systems like the dynamic lights adjustment, the automatic adjustment of the distance,  a device to assist the lane change and the system monitoring the tire pressure.
[youtube]
The engine range includes 4 units (one turbo diesel, three petrol). The six, eight and twelve cylinder engines with power ranging between 176 kW/240 hp to 330 kW/450 hp. The six-cylinder petrol engine is a V6 direct-injection engine (FSI with 206 kW/280 hp). At the power levels above the V6,  petrol engines are a V8 and a W12 with  246 kW/335 hp  and 331 kW/450 hp). The Volkswagen's offer is developed from the excellent and extremely fuel-efficient 3.0 V6 TDI 240 bhp in an updated version, consumption in the combined cycle is reduced from 9 to 8.5 l/100 km and relative 224 g/km CO2.
2011 Volkswagen Phaeton Prices, for the european markets, starts around € 70,000 for the 3.0 V6 TDI (€ 77,000 long-wheelbase variant) to get to the 6.0 W12 at about € 118,000 (€ 121,000 the long-wheelbase version). The 4.2-liter V8 costs € 90,000 (€ 99,000 long-wheelbase).
We cannot display this gallery
[youtube]