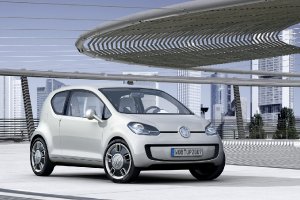 The new city car from Wolfsburg should also be a hybrid version Blue Motion designed for distances as over 30 kilometers per liter of gas, the utility car is ready to be shown as final version at the next Frankfurt Motor Show (13-25 September). In Volkswagen's plans is expected to supply a version (e-Motion), but only for 2013.
According to some sources close to VW, the car should share the same base of the XL1 hybrid concept, which debuted world premiere at the Qatar Motor Show, composed of 800 cc two-cylinder TDI engine with 48 hp combined with a electric motor 27 hp 7-speed DSG gearbox. Looking at the compact size of the Up, however, the lithium ion battery can not be large enough to allow it to move in electric-only mode.
38 KM PER LITER: the UP Blue Motion should be able to travel up to 33 km per liter of gas due to the hybrid system, an excellent result, but far from that obtained from the XL1 Concept: 111 km/liter (0.9 liters per 100 km). The difference in consumption depends of the weight 300 kg more (the XL1 has a carbon body, the Up none) and the largest front section of the city car.
[Not a valid template]
[youtube]
Articles across the web
Similar News: