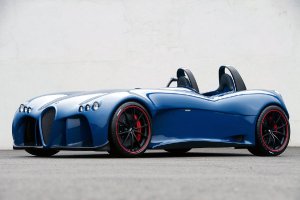 Wiesmann has developed a two-seater ultra-light prototype, against and very different from coupe and roadster created so far. The engine is a 8-cylinder 4.0-liter, 420 hp provided by BMW and is the same that equips the M3.
DESIGN: The Wiesmann Spyder concept presented in Geneva is compact and simple, with rounded shapes which differ from classic design featuring various MF and GT, in fact, the innovative model announced as an extreme sport car, comes with a body without any type of roof, windscreen and windows, and then a car purely created to deal curves and curbs in a track. The masculine front stands by a large central air intake drop shaped, flanked by two large side openings through which you can see the suspension. From body popping just two roll-bars behind the headrests and a rear view mirror only, strangely placed between the driver and passenger.
ENGINE: the spirit of extreme car was also highlighted by the refined mechanics derived from the BMW M3, one of the most popular sports cars on the market. The powerful 4.0-liter V8 that weighs only 202 kilograms produces 420 hp at 8400 rpm and 400 Nm of torque. These values ​​combined with the weight of the car – less than 1,000 kg – enable the Wiesmann Spyder to accelerate from 0 to 100 km/h in only 4.0 seconds, while the top speed is 290 km/h.
Director Friedhelm Wiesmann, said: "In Geneva we want to verify the marketability of this type of vehicle. feedbacks from customers, partners and experts will influence our decision to make whether or not a production model."
[Not a valid template]
Similar News: